Unplanned tour to Northeast, traveled by general boggie to Guwahati Indian Railways.
Day 1.
Location: Mumbai
16th December 2017, Saturday
Gautam (myself) met Heramb at Dadar and attended an Himalayan org meet up in Mahalaxmi and then headed to Churchgate. We then hopped into a taxi and reached CST (in Rs. 10 ) to board CST Howrah Express (12322)

Since we didn't have confirmed reservations, we had to travel by general compartment . We stood in the que to board the train but it was of no use because people were not following it. So even we decided to run further to board a general coach. We had to run the length of the whole train carrying some 30 kg of bag on our shoulders which we did and it was worth all the effort because I managed to fetch a window seat for both of us. Ticket fare Rs. 270 from Mumbai to Jabalpur.
TIPS/HACKS/SUGGESTION: Best in the Business Power Bank which will last long for Long Journey
Day 2.
Location: Jabalpur
Total Cost: Rs. 1273
17th December 2017, Sunday
Kolkatta express 12322 CSTM 21:30 to Howrah.
Explored the beauty of Jabalpur in Madhya Pradesh
Got down at Jabalpur at 13:45. Once we reached we went to the reservation office to book our tickets but the window gets closed on Sunday by 2 PM. So we were unable to book any tickets. Then we headed to the main road and had two cups of tea and ate paratha's which I carried from home.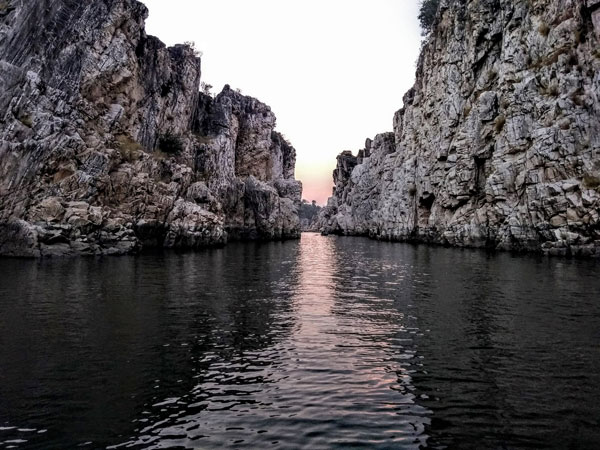 On enquiry for Dhuadhar waterfall and Bedhaghat we got to know that we can get state bus for from the another side of the station near platform 6. So the ticket for Bhedaghat costs Rs. 25 & the bus also carries the name of the place Bhedaghat, hence you would know which one to board. Both the places are near by and rickshaw will charge Rs. 10 from one place to other but if you have time you can go walking. The boat rental is Rs. 50 from Govt which I recommend and the private one takes Rs. 100. While re-turning back we ate channa masala for Rs. 20 and reached Jabalpur station by state bus transport. Then we headed to a canteen at Jabalpur station which was managed by IRCTC and the place serves great food on nominal price. After our meal we waited for our train to Mughal Sarai.
Jabalpur to Mughal Sarai ticket Rs. 170.

TIPS/HACKS/SUGGESTION: If your Interested in Recording Under water Videos and Photos look for this Action Camera PS: I Use It

Day 3.
Location: Mughal Sarai.
18th December 2017, Monday
Total Cost: Rs.1210
A whole lot of hopping into Tuk Tuk In Varanasi.
We reached Mughal Sarai by Bhagmati express from Jabalpur which runs only on Sunday.

Mughal Sarai  to cant Rs. 20
From cant to Gadolyaa Rs. 30

Vishwanath temple 0.4 km from Gadolyaa temple(There was a long line to take darshan)
Maidagin 1.4 km from Gadolyaa chowk
Ghats sections are here only

After visiting the temple and the ghats we headed back to Mughal Sarai first and went till Padhav in Rs. 20 and from Padhav to Mughal Sarai in Rs.20 again. Once we reached Mughal Sarai, we got to know that trains headed to North East are all running late so we opted to continue our journey the next day and decided to stay back in Varanasi. We asked our friends, whom we had met during Khajuraho tour. Aditi was there to meet us but because of her health, she wasn't able to spend more time with us. Then it was set that we were going to spend our night in the IIT Banaras hostel thanks to Utarksh, a friend of Rishabh. While chatting with Utkarsh we decided to visit the Aasi ghat to witness the Maha Arati on the Ganga ghats, which was one of the most amazing experience. Then heading back to the hostel we thought of having some food on the streets on Banaras and we had kabab paratha for Rs. 15 along with some veg Biryani Rs. 40. After the delicious meal, we headed back to the hostel and re-lived our college days; days when a sentence was only completed by letting out a few cuss words.
Recommendation: Worth A Read – Book on Backpacking Northeast
Day 4.
Total: Rs.530
IIT Banaras Hostel
19th December 2017

Yaay! All we recalled was our College Days.
We woke up at 9am today. And you know that your staying at a hostel when you realise that here common basic needs run on jugaad. So you borrow a toothpaste from one, a bucket from another person, a soap from somebody else & everything else just works like that.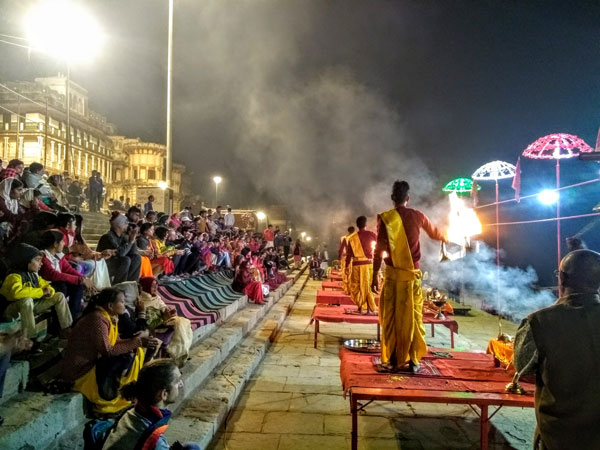 Enjoying the surroundings, we got ready and went to a near by chat shop and had samosa Rs.4, cholle and samosa Rs.10 and tea Rs. 10. We planned for an outing but as we were unable to arrange for a bike, we called it off. Since we already had been to temples and the ghats of Banaras, there was nothing much to be seen around. In the noon, we went for a walk around the IIT Banaras campus and grabbed a dish which included different varieties of fruit that too at only for Rs. 30. Once we returned, our friends decide to cook some food in the room and decided to make paneer masala bhaji and that too on a waterheater and puris were to brought from the canteen. A fight for who will chop the onions and many more friendly banter that we witnessed, was so synonym to a hostel life. They brought some 80 puris to be distributed in between 7 students. The bhaji was served in a paper plate and we ate in a hurry as we had to rush to board the train from Mughal Sarai. So Utkarsh dropped us at Lanka chowk from were we hopped into an auto rickshaw and headed to Mughal Sarai railway station. The North East Express which was 9 hours late so we headed to the station by 01:30 and waited for the train as the expected time of arrival was 03:00 AM.
TIP: Best Tent For Winter and Summers / Best Investment
Day 5
20th December 2017
In train to Guwahati
Get abundance of stories in Train Journeys. Treasure for Writer's.
Atlast our train arrived at 06:30AM, almost 12hours late. I was on waiting list and my friend had a general ticket. The the train was overly crowded; we settled our bags at a corner and took a nap at the door. We purchased some biscuits and pan cakes for our journey and later went in search of a good place to hop into our rucksacks and be comfortable. We managed to get a place at the other section of the compartment and had a very interesting conversation with a passenger who then suggested us to take his seat as he was alighting at next station which was Buxar. I would recommend a writer to travel like this and I am very sure that you will get awesome material to write.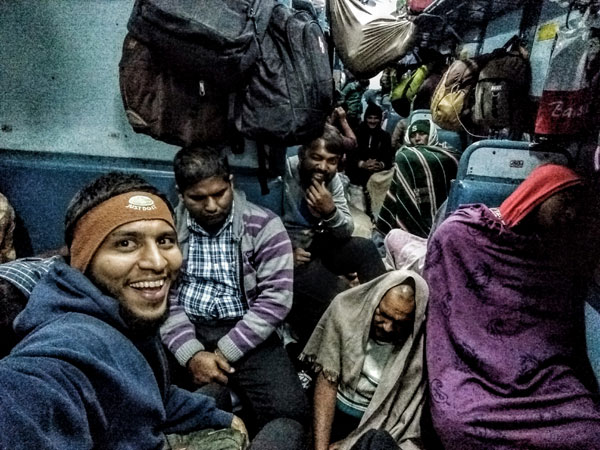 We had conversations with many of our co-passengers, learning about their lives and thinking towards our country but most part of our conversation was of the railways because of the delay issues. The train was actually on a single track till Baruani after which the line gets double and the train began running on good speed. Before Baruani it was running for 30minutes covering 10km and waiting for 20minutes at one place. Everyone was cursing, some of them saying it will be forever late, we won't reach our destination,why the hell the train started from the source better it should have cancelled and many more, in short all were running out of patience. In the mean time, we were waiting for the TTe to turn up so we could check for available seats while Heramb hid successfully from his sight. But we had no luck as no seats were available. Swapping our place to grab a power nap was important for both of us. For dinner we had Biryani at Rs.60. Just after dinner, a TTE came by and again I enquired for a seat. He asked for some more money and I could only offer him Rs.100, an offer which he refused. He did come by after some 30minutes and gave me an berth to sleep on which we both adjusted and slept for the whole night.
Perfect tent to carry if your Travelling unplanned 

Day 6..
21st December 2017.
Finally after 33 hours of Journey we are in Guwahati.
Its morning 9 am and still we are in the train heading to Guwahati and this epic journey still continues to take a toll on us. We had dosa and omlette for breakfast and just waited to reach our destination. Finally, we reached Guwahati at 3:30pm.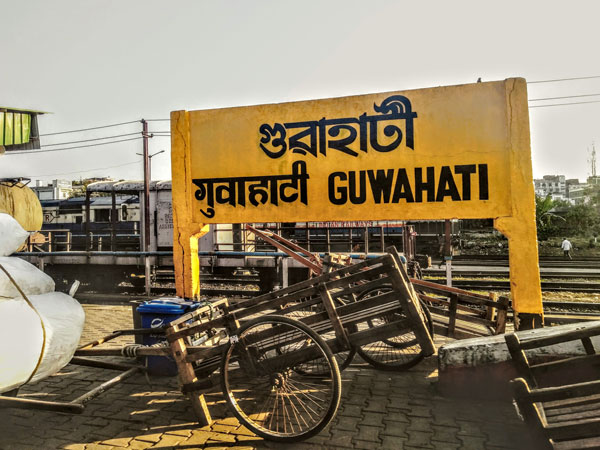 carrying our backpack, we were in search of DRC office of Arunachal Pradesh for our permits and also went looking for some budget rooms near the station which would be convenient for us. After calling the DRC office we were informed that applications are accepted only before 2pm. We then rented a room for Rs.450 for 24 hours near Paltan Bazaar. All we did upon reaching the room was to dump all our bags & crashed on the bed to straighten our backs after a 4 day long train journey. By evening we went to the railway station to enquire if their are any dorm available for as they are very reasonable (Rs.60 for 24 hours)but everything was booked. Then we went to a restaurant named Annapurna to have a complete thali in Rs. 50 which was delicious. Then we came back to our hotel and slept like a log.
To be Continued….
Join our Broadcast List for Travel and Trek News, Updates and blog by a Text on Whatsapp – 9762124690.
Facebook Page     |  Youtube      |  Instagram        | Closed Facebook Group
Open up and be spontaneous  to Comment on your own Trekraw Family Blogs (PS: I am one of you)